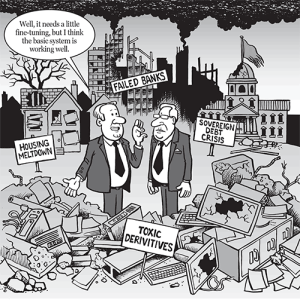 Economics for Everyone: A Short Guide to the Economics of Capitalism – Second Edition (ISBN 9780745335773, $24.95), by Jim Stanford, is jointly published by Pluto Press and the Canadian Centre for Policy Alternatives.
Jim is one of Canada's best-known economists: he works for Unifor, writes a regular economics column for the Globe and Mail, and is the Vice-President of the Canadian Centre for Policy Alternatives.
This book fills a unique void in economics. It's a textbook for activists. It provides a comprehensive description (and critique) of free-market economics. But it's fully understandable to average, non-specialist readers. Like trade union members. Activists. Neighbours.
Economics for Everyone is punchy and readable, with short, bite-sized chapters, and illustrated with cartoons and flow charts by renowned political cartoonist Tony Biddle. Best of all, it is completely free of technical jargon and mathematics.
When they've finished it, readers will understand the basic features and relationships of modern-day capitalism. They'll see where working people fit into the big economic picture – and the points of opportunity where we can try to build a better, fairer system.
Most important, Economics for Everyone is backed by a comprehensive set of web-based instructional materials – including a course outline, lecture notes, student exercises, and a glossary, all available for free on the web. This book can thus be part of a broader, ready-made popular economics course for unionists, activists, and just plain regular concerned individuals.
Click here to learn more about the author, Jim Stanford.
Click here to learn more about the illustrator, Tony Biddle.